We Make Music – Open Call – Kirjoitusleiri Tanskassa naisille ja muunsukupuolisille
Suomen Musiikintekijöiden tanskalainen sisarjärjestö Autor järjestää 9.10.–13.10.2023 kirjoitusleirin Kööpenhaminassa. Leiri on suunnattu naisille ja muunsukupuolisille.
Tanskaan biisinkirjoitusleirille!? Mukana leirillä on yhteensä 14 ammattimaista musiikintekijää Tanskasta, Ruotsista, Norjasta, Islannista ja Suomesta. Leirillä kirjoitetaan biisejä tiimeissä eri artisteille. Leiri on tarkoitettu naisille ja muunsukupuolisille. Leirin työskentelykieli on englanti.
Leirin järjestää tanskalainen musiikintekijäjärjestö Autor.
Aika: 9.10.–13.10.2023
Paikka: Kööpenhamina
Tiedustelut: astridicordes(at)gmail.com
Hakeminen
Autorin edustajaryhmä valitsee osallistujat hakemusten perusteella.
Hakijan tulee olla Suomen Musiikintekijöiden jäsen.
Haku on päättynyt 28.8.2023.
Autor ilmoittaa valinnoista 1. syyskuuta mennessä
Karenssisääntö
Vuoden karenssi. Jos osallistuit leirille vuonna 2022, voit hakea mukaan vasta vuonna 2024.
Kustannukset
Suomen Musiikintekijät maksaa valittujen jäsentensä osallistumismaksun sekä majoituksen Autorin valitsemassa hotellimajoituksessa.
Valitun jäsenen tulee itse kustantaa matkakulunsa Tanskaan.
Liikkuminen Tanskassa omakustanteista.
Suomen Musiikintekijät kannustaa valitsemaan aina mahdollisimman ilmastoystävällisen vaihtoehdon matkustamiseen. Matkasuunnitelmat kannattaa myös pyrkiä laatimaan siten, että kohteessa voi viipyä pidempään ja hoitaa samalla esim. useampia tapaamisia.
Ruokailut omakustanteisia, ellei leirillä toisin ilmoiteta (esim. hotelliaamiaiset).
Autorin tiedote leiristä:
We Make Music – Open Call
This October the Danish songwriter and composer association 'Autor' is hosting a writing camp called 'We Make Music' for women and gender minorities who write and produce music professionally for other artists. There are 14 spots on this year's camp divided between Denmark, Sweden, Norway, Finland and Iceland.
Joining us on the camp is a select handful of artists who are all in need of new material. This year we have already confirmed Danish/Faroese/Tanzanian artist Tamara and Danish artist KAJA. This means that there is great potential to cut a song with and form a relation to some very exciting artists.
The writing teams will be put together with at least two nationalities represented on each team. This camp is truly a unique opportunity to strengthen your international network. Every morning we redo the teams to give people a chance to work with as many new faces as possible. Project manager, songwriter Astrid Cordes will be in charge of putting teams together and will be present the entire week.
We Make Music is for people who
are women or belong to a gender minority.

produce, write or topline for other artists.

want to expand their network with other professional music creators from Scandinavia.
When: October 9th-13th 2023
Where: "Akademiet", Stefansgade 9, 2200 København
Deadline for applications: August 28th 11:59 PM
Answer for all applicants: September 1st.
You will need to bring your own laptop, headphones and a pop-filter plus additional things you might need for writing. There are a wide range of instruments at the studio. When we are closer to beginning of the camp, we'll have an online intro meeting, you will be required to participate in.
How to apply
If you want to be a part of We Make Music 2022, please fill out the form.
We recommend you to apply well in advance of the deadline, so you have time for technical assistance, should you need it. You can start the application, close it and come back to it later without deleting your answers.
We encourage everyone interested in We Make Music to apply regardless of age, cultural background, sexuality and any other identity markers. There is an elevator at the studio and an easy access bathroom. 
We will evaluate and choose the participants based on the quality of the songs they include and how well we feel they match with the artists joining us.
Questions?
If you have any questions regarding the camp or the application, please reach out to project manager: Astrid Cordes at astridicordes(at)gmail.com
We Make Music 2023 artists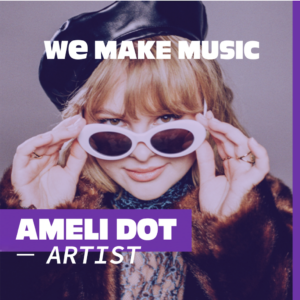 Danish shooting soul pop star Ameli Dot had a flying start with the release of her debut single 'Hanging With Myself' in 2022 when it went #1 on the Danish Airplay Chart. Her following singles have all entered the top 10 as well and there is seemingly no stopping this cheeky talent.
Ameli Dot Spotify
Ameli Dot Instagram
Releases
2023 – EP, Monday of My Life
2023 – single, Machete
2022 – single, Drunk

2022 – single, Hanging With Myself
Tamara is a young singer/songwriter from The Faroe Islands with roots in Tanzania andDenmark. Since she was little, Tamara has written and made music in her room in the small village Fuglafjørður. Her music revolves around her upbringing, personal stories and heartbreaks. With her unique sound and distinctive voice, Tamara's sound moves between the genre's soul, RnB, and hip-hop. Since releasing her first music at the end of last year, Tamara has been gathering momentum and has already caught the attention of many. Her singles can already be heard on prominent radio stations and streaming playlists across Denmark, including plays on P3 Radio and in New Music Fridays playlist in all of Scandinavia. 
Tamara is currently working on her debut EP, which is set to release in the fall of 2023.
Tamara Spotify
Tamara Instagram
Tamara Releases
Sep 2022, debut single 'Solo Crowd'.
November 2022, second single 'I Should HaveKnown Better'
January 2023, Tamara played her first show at Ideal Bar
February 2023, third single 'Mad World'.
May 2023, live session of 'Mad World' + full video and streaming version.
May 2023, Tamara played two concerts at Spot Festival
June 2023, Tamara headlined Byhaven

July 2023, Tamara played at G! Festival on the Faroe Islands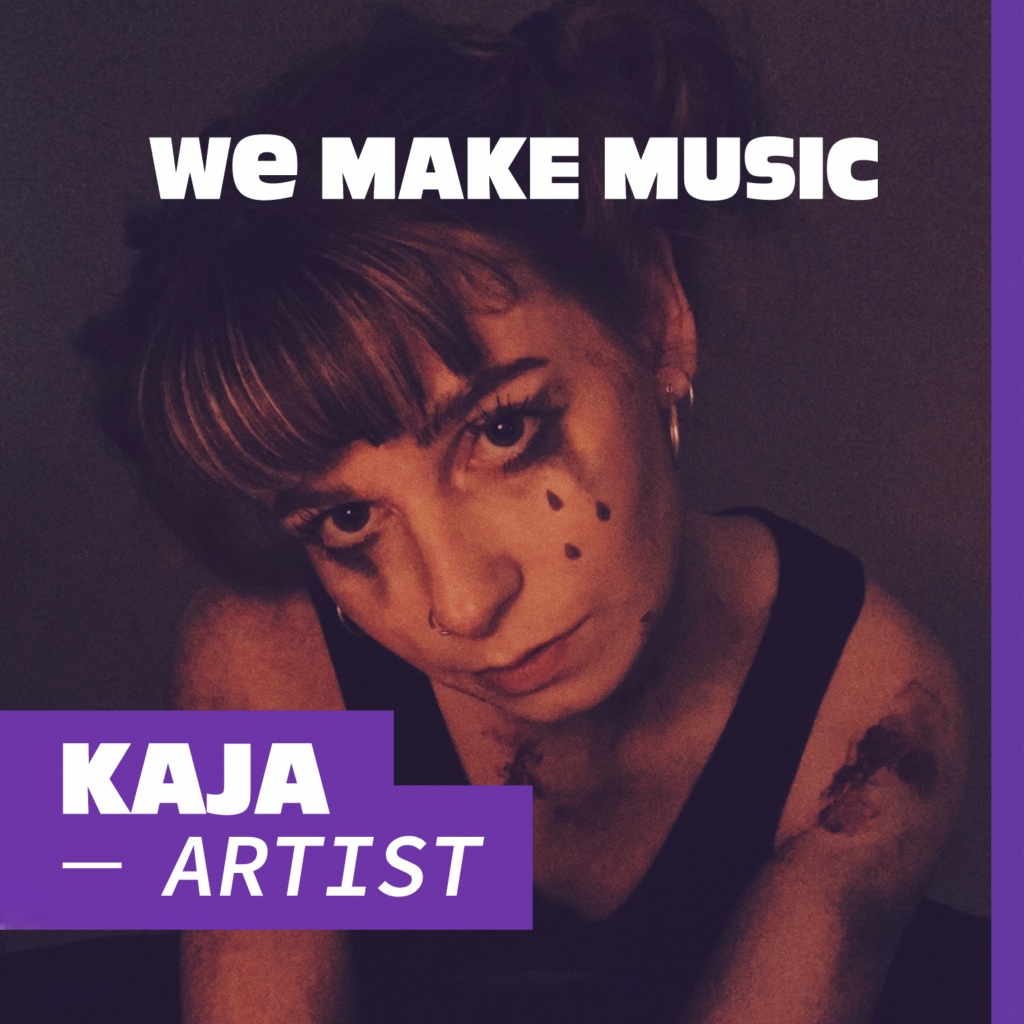 KAJA is upcoming Danish artist making quirky pop music about being an outsider. Selected for the national talent competition "Karrierekanonen" 2023 on Danish national radio DR.
Kaja Releases
2023 – single *Masterpiece'
2022 – single 'Sad and Lonely'
2022 – single 'Fucking Broken'
2021 – single 'Luggage Carrier'

2021 – single 'What I Did'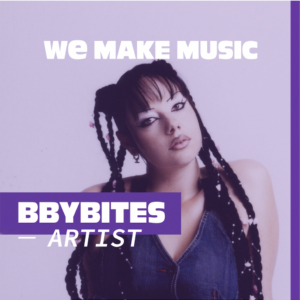 BBYBITES

We Make Music 2023 Timeline
August 7th – Roll out! Applications are open.
August 28th – Deadline for applying.
August 29th – Pre approval. I will send you all a list of who has applied from your country for you to pre approve.
August 30th – Deadline for returning the list with the pre approved names to me.
August 31st – I will select the participants with an impartial person from the music industry and notify you.
September 1st – I will notify all applicants on whether they have been chosen or not.
September 8th – Deadline for the participants to confirm that they will attend.
September 26th – Online pre-meeting at 8PM for all applicants. You are welcome to join, if you like.
October 9th – 13th – CAMP!
October 16th – I will send out a feedback survey to all the applicants and to you.
November 6th – Deadline for filling out the feedback survey.